HIVE Blockchain Announces Commercial Deployment
of the HIVE BuzzMiner powered by the Intel Blockscale ASIC
This news release constitutes a "designated news release" for the purposes of the Company's prospectus supplement dated September 2, 2022 to its amended and restated short form base shelf prospectus dated January 4, 2022.
Vancouver, Canada – HIVE Blockchain Technologies Ltd. (TSX.V:HIVE) (Nasdaq:HIVE) (FSE:HBFA.F) (the "Company" or "HIVE") is extremely pleased to announce its commercial deployment of the HIVE BuzzMiner powered by the Intel Blockscale ASIC, after months of planning, engineering development, implementing factory QA processes, field testing and global collaboration.
Frank Holmes, Executive Chairman, stated: "HIVE has always sought to innovate as a technology company. Being the first public crypto miner, the first to be green energy focused, the first to mine both Bitcoin & Ethereum, and the first to own and build data centers, we are now very pleased to be the first public crypto miner to deploy its own ASIC mining rig. I am very proud of the hard work of our team."
Mr. Holmes continued, "Our strategy has always been to realize the best return on invested capital. By vertically integrating our supply chain of ASIC miners, we are executing on our strategy to be the most efficient and agile crypto mining company globally. Additionally, the HIVE BuzzMiner is our testament to Proof-of-Work being the most secure and robust consensus mechanism for digital assets, of which Bitcoin is the most secure. We are proud that our contributions to securing the Bitcoin network can now include the HIVE BuzzMiner."
Aydin Kilic, President & COO of HIVE, added, "The HIVE BuzzMiner is a high quality and robust machine and we are very pleased with the finished product. Our strategy to vertically integrate our business to include the development and production of our own Bitcoin ASIC miner, represents a significant milestone in HIVE's advancement of our green energy focused Proof-of-Work initiatives. In addition to having design input and visibility, we are able to optimize the function of the HIVE BuzzMiner to satisfy demand response programs, so we can participate in grid balancing initiatives, which is part of our global energy strategy. What is unique about the HIVE BuzzMiner is the dynamic range of operation. We are able to operate our machines from 110 TH/s to 130 TH/s, allowing us to optimize the profitability of our fleet, by varying the power consumption and machine efficiency. Accordingly, our initial build of 5,800 HIVE BuzzMiners, can produce between 638 PH/s to 754 PH/s."
The Company is happy to announce the performance of the HIVE BuzzMiner, now that over 1,500 machines have been deployed globally in our data centers in Canada and Sweden, and we have seen the expected performance targets met. The Company notes that earlier projections of over 1 Exahash were based on total ASIC allocation of Blockscale chips with Intel to produce 13,000 HIVE BuzzMiners. To methodically scale the business during the crypto bear market, HIVE's initial production run for 2022 was set to 5,800 units. Accordingly, this is reflected in the hashrate projections. HIVE retains the option to produce more HIVE BuzzMiners.
Mr. Kilic continued, "We use advanced multi-variate mathematical models to study ever changing hashrate economics, and carefully monitor the production cost of each Bitcoin at our various data centers, along with ROI of our investments, which vary with ASIC miner performance. This is key to navigating crypto bear markets successfully, and maximizing profits in bull markets. We can now modulate the ASIC miner performance with our HIVE BuzzMiners for optimal returns. I am very pleased with the tactical execution of HIVE and Intel, which has involved inter-disciplinary engineering expertise in hardware, software, firmware, thermodynamics, and quality assurance."
William Gray, CTO of HIVE, stated: "I have been involved in crypto-mining since 2011. It is a dream come true to oversee the deployment of our own ASIC miner, and notably in collaboration with Intel, a Fortune 500 company. We have the ability to develop our own API calls, gather test data at the microchip level, and fine-tune the device to optimize its performance. This also sets the stage for future ASIC systems development. At HIVE we strive for optimal efficiency, we have a high-performance culture. In the last decade, I have seen many presumptive companies attempt to build their own Bitcoin ASIC miner. It is a technically complex feat, that requires inter-disciplinary expertise. We are fortunate to have such a skilled technical team at HIVE, that has been able to leverage the immense resources from Intel Corporation."
Mr. Jose Rios, General Manager of Blockchain and Business Solutions in the Accelerated Computing and Graphics Group at Intel added, "We're thrilled to see the world's first Intel Blockscale ASIC-powered systems go live with the new HIVE BuzzMiner. Blockscale was designed to optimize both energy efficiency and hashrate throughput, enabling partner systems that can help mining companies achieve both sustainability and hashrate objectives. At Intel, we're excited by the potential of HIVE's BuzzMiner system developed in close collaboration with HIVE's engineering team and we're looking forward to continued deployment of these systems in the years ahead."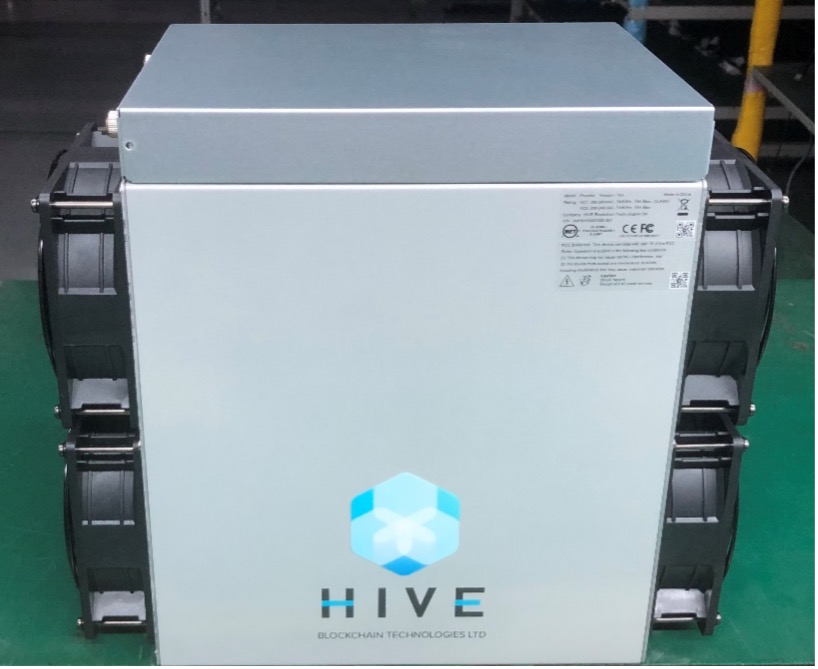 Figure 1: HIVE BuzzMiner powered by Intel BlockScale ASIC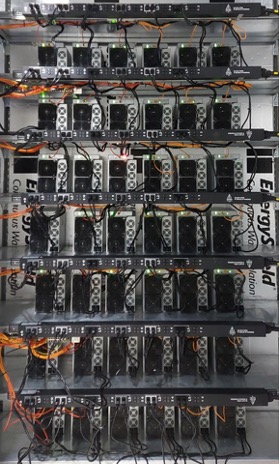 Figure 2: HIVE BuzzMiners in action
RSU Grant
The Company announced that the Board of Directors has approved the grant of an aggregate of 1,200,000 restricted share units ("RSUs") to the Company's directors and an officer, which vest over 12 months. Each vested RSU entitles the holder to receive one common share of the Company. The grant of RSUs are subject to the approval of the TSX Venture Exchange.
About HIVE Blockchain Technologies Ltd.
HIVE Blockchain Technologies Ltd. went public in 2017 as the first cryptocurrency mining company with a green energy and ESG strategy.
HIVE is a growth-oriented technology stock in the emergent blockchain industry. As a company whose shares trade on a major stock exchange, we are building a bridge between the digital currency and blockchain sector and traditional capital markets. HIVE owns state-of-the-art, green energy-powered data centre facilities in Canada, Sweden, and Iceland, where we endeavour to source only green energy to mine digital assets such as Bitcoin on the cloud. Since the beginning of 2021, HIVE has held in secure storage the majority of its treasury of ETH and BTC derived from mining rewards. Our shares provide investors with exposure to the operating margins of digital currency mining, as well as a portfolio of cryptocurrencies, primarily BTC. Because HIVE also owns hard assets such as data centers and advanced multi-use servers, we believe our shares offer investors an attractive way to gain exposure to the cryptocurrency space.
We encourage you to visit HIVE's YouTube channel here to learn more about HIVE.
For more information and to register to HIVE's mailing list, please visit www.HIVEblockchain.com. Follow @HIVEblockchain on Twitterand subscribe to HIVE's YouTube channel.
On Behalf of HIVE Blockchain Technologies Ltd.
"Frank Holmes"
Executive Chairman
For further information please contact:
Frank Holmes
Tel: (604) 664-1078
Neither the TSX Venture Exchange nor its Regulation Services Provider (as that term is defined in policies of the TSX Venture Exchange) accepts responsibility for the adequacy or accuracy of this news release
Forward-Looking Information
Except for the statements of historical fact, this news release contains "forward-looking information" within the meaning of the applicable Canadian securities legislation that is based on expectations, estimates and projections as at the date of this news release. "Forward-looking information" in this news release includes, but is not limited to, business goals and objectives of the Company; the ability of the HIVE BuzzMiners to operate at expected levels of performance, the merits of expanding the deployment of the HIVE BuzzMiners, the continued viability of its existing Bitcoin Mining operations, and other forward-looking information concerning the intentions, plans and future actions of the parties to the transactions described herein and the terms thereon.
Factors that could cause actual results to differ materially from those described in such forward-looking information include, but are not limited to, the volatility of the digital currency market; the Company's ability to successfully mine digital currency; the Company may not be able to profitably liquidate its current digital currency inventory as required, or at all; a material decline in digital currency prices may have a significant negative impact on the Company's operations; the volatility of digital currency prices; continued effects of the COVID-19 pandemic may have a material adverse effect on the Company's performance as supply chains are disrupted and prevent the Company from carrying out its expansion plans or operating its assets; and other related risks as more fully set out in the registration statement of Company and other documents disclosed under the Company's filings at www.sec.gov/EDGAR and www.sedar.com.
The forward-looking information in this news release reflects the current expectations, assumptions and/or beliefs of the Company based on information currently available to the Company. In connection with the forward-looking information contained in this news release, the Company has made assumptions about the Company's objectives, goals or future plans, the timing thereof and related matters. The Company has also assumed that no significant events occur outside of the Company's normal course of business. Although the Company believes that the assumptions inherent in the forward-looking information are reasonable, forward-looking information is not a guarantee of future performance and accordingly undue reliance should not be put on such information due to the inherent uncertainty therein. The Company disclaims any intention or obligation to update or revise any forward-looking information, whether as a result of new information, future events or otherwise, other than as required by law.